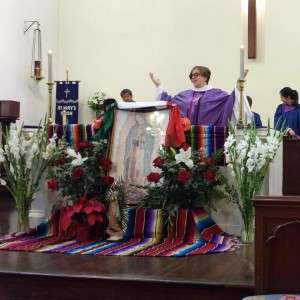 The Reverend Anna Olson came to St. Mary's as Rector in 2011. Ordained in 2000, she has served her entire ministry in the Diocese of Los Angeles — at churches in Long Beach, East Hollywood and Inglewood, and in a faith-rooted social justice nonprofit. She is a graduate of Union Theological Seminary and Stanford University. She started her working life as a union organizer, and still uses much of what she learned about bringing people together to work towards worthwhile goals. She speaks English and Español, and is working on ??? (Korean).
She has lived with her family in Koreatown since 2002. She believes that Koreatown needs a church where there is room for everyone, and where diverse communities can find common ground to practice the gospel work of love and forgiveness. Her passions in ministry include bringing Biblical stories alive through preaching; public and outdoor liturgy; using music, dance and art to create a more inclusive church; and opening space for authentic multicultural and multilingual community.
She is a volunteer chaplain at Century Regional Detention Facility, LA County's main jail for women. She holds a second-degree black belt in taekwondo, but is currently pretty out of shape. Still, don't mess with her.
She just finished a book that draws on her ministry experience and the recent adventures of St. Mary's community as it engages the local community and celebrates its 100+ year legacy. Claiming Resurrection in the Dying Church, published by Westminster John Knox Publishing, challenges the church to let go of hanging on to old ways of being and to its own determination to survive. The gospel invites us to walk towards death in the hope and confidence of resurrection. Letting go of our desire to live forever gives us all sorts of freedom to take risks and dream dreams and live fully in the days we have.
Mother Anna's blog on the Episcopal Church Foundation Vital Practices website: http://www.ecfvp.org/posts/author/anna-olson/
Favorite Bible story: Numbers 11
Favorite Food: Artichokes, Spam musubi
Current favorite quote: "All will be well in the end. If all is not well, it must not be the end."
Thankful for: The life of the Reverend Malcolm Boyd (1923-2015), prophet of the church and my spiritual director and mentor over the last twelve years. http://www.nytimes.com/2015/03/03/us/rev-malcolm-boyd-episcopal-activist-and-writer-dies-at-91.html?_r=0