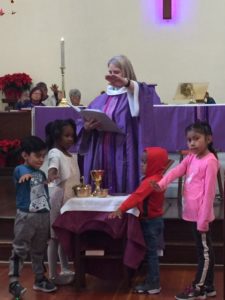 The Reverend Laurel Coote began serving as Interim Priest at St. Mary's in September 2019.  Prior to her time at St. Mary's, Rev. Laurel had served as the Associate for Youth and Spiritual Care at St. Francis Episcopal Church in Palos Verdes.  A bit of trivia regarding Laurel is that she also did her Seminarian Intern Year at St. Mary's in 2016/17 and so, returning to serve the congregation during their transition was a special gift!
Laurel enjoys singing, spending time in nature, and sharing meals and laughter with friends and family.  She also supports two organizations that raise funds and offer services for our neighbors in need: the Multiple Sclerosis Society through participating in BikeMS and Laundry Love, a ministry of providing access to clean clothing.
Laurel speaks English and is improving her Spanish every day!  She sits on the Board of Directors for the Episcopal Community Credit Union, and has assisted the Diocese of Los Angeles with special projects such as the Ministry Fair and the Pilgrimage to Cuernavaca Mexico.
Laurel is assisted by the Reverend Joanne Leslie, our Parish Deacon, the Rev. Virginia Marie Rincon, and the Rev. Richard Van Horn.
Prior to Laurel's arrival, The Reverend Anna Olson served as Rector of St. Mary's from 2011 until her departure in June of 2019.